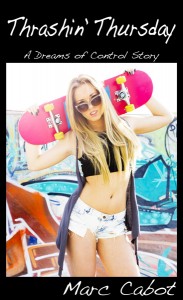 Click Here to buy on Amazon.com or read for FREE with Kindle Unlimited!
The mysterious man with the little black box is back once more… with a very special camera!
Angela is a hot little skaterpunk, who just wants to be left alone to ride her board. When a photographer appears at the skate park and asks to take some pictures, she's not hot on the idea. But after he takes a sample pic with his strange camera, she's not only hot on being photographed, she's hot, 
period. 
Her skate name may be "Angel," but she's doing things an angel would never do, and loving it!
(Erotic mind control, erotic hypnosis, photography, skaterpunk)