We're pleased to announce the release of L. Nightingale's newest hot-happy-ever-after, The Spanking Solution!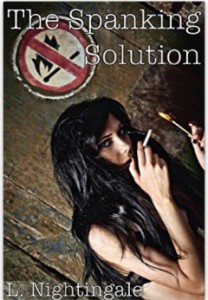 Cathy Smithson has a problem. She really wants to quit smoking – and her handsome husband John really wants to help. But old habits die hard, and "Sassy Cathy" just doesn't like being told what to do, even for her own good. When John offers up a startling new incentive to quit out of sheer frustration, Cathy finds to her surprise that nothing helps her concentrate like a good old-fashioned spanking.
Unfortunately, what she's concentrating on is a desperate need for more!
Being spanked drives Cathy wild. And the sex afterward is mind-blowing for both of them, even if John thinks it's just her being "grateful" for his help. This black-haired badass can do anything except admit that she craves a firm hand – or better yet, two – across her behind. Soon Cathy's sneaking cigarettes just to get caught and take her "punishment." But when John finds out what's going on, will Cathy's secret tear apart everything John believes about her? Or will they find a way to permanently apply The Spanking Solution?
Click here to purchase (or read for free on Kindle Unlimited!) http://amzn.com/B013PB1S2Y
The Spanking Solution
Categories →
Happy Ever After
Novellas
Romantic
Smoking
Spanking