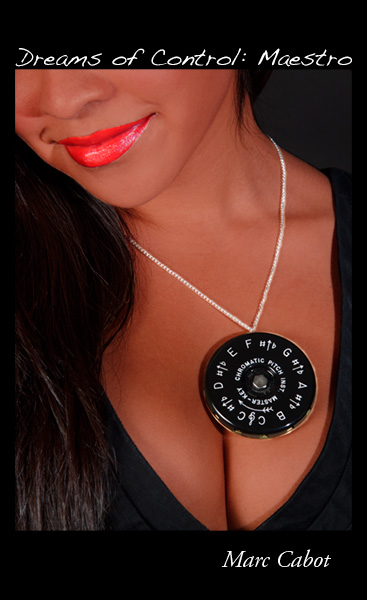 Click here to buy on: Smashwords / Amazon / Barnes and Noble / Kobo
Marc Cabot's erotic mind control novel Maestro tells the story of a man who wants to conduct the greatest music of all – the Song of Consciousness.
For more than ten years, former graduate student David Jones has been living hand-to-mouth in a basement apartment in the slums of New York, working in secret on his brilliant invention, the Pitchpipe. The Pitchpipe, when complete, will give him the ability to reconfigure the consciousness of any person – allowing unlimited control of their minds.
The Pitchpipe brings David into a world of dominance and submission he didn't even know existed, and into conflict with a haughty dominatrix who finds his sudden appearance and absolute mastery of beautiful slave girls – who'll do literally anything he wishes – an unacceptable challenge. Though he treasures his lovely instruments and meets every setback with intelligence and humor, the conflict soon escalates out of control.
The end of David's risky journey through strange seas of thought and the dark underside of New York's nightlife is far from certain. To save himself and what he's accomplished from the vicious mistress, he will have to become… the Maestro.
Maestro
Categories →
BDSM
Erotic Mind Control
Happy Ever After
Menage
Novels
Romantic