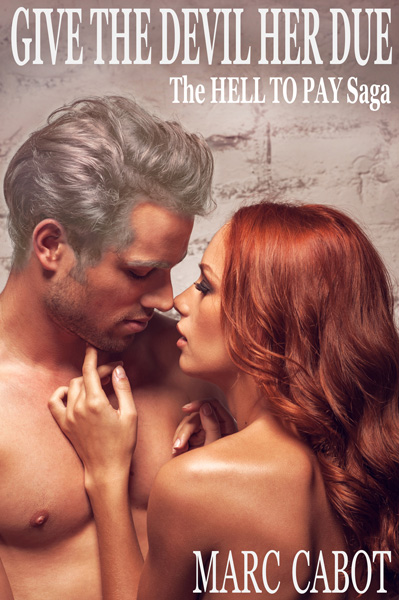 Simon Marshall was a trust-fund playboy enjoying the good life that being handsome, smart, and rich can bring. Then he met a beautiful Czech club girl who turned out to be a lot more than she seemed. When the dust settled, she was dead and Simon found himself thrust into the world of the supernatural without a clue as to how to survive there. And when Simon's experiments lead to his summoning a succubus named Lily, the temptation proves too great. Now she's his for a year – and then his soul is hers forever.
In the meantime, Simon and Lily have the world at their feet and their choice of exotic playmates. Lily can give Simon anything – or anyone – he wants, and the erotic possibilities are unlimited. Between Simon's wealth and Lily's power, they're off on a sexy version of "Around the World in Eighty Days." But both of them know the clock is ticking. Both of them will find that what they thought they wanted won't seem so important when lust turns to love even in the heart of a demon. And maybe, just maybe, they can find a way to change their destinies.
Even if there is a way out, though, there's still the small matter of Lily's boss – the Devil Himself. He's not amused by the attempts of mere mortals to thwart Him, especially for something like… love. Can Simon and Lily ever be safe from the wrath of the Lord of the Pit?
Or will the Devil's Huntsman find a way to collect from both of them?
Buy this book (or read it for FREE with Kindle Unlimited) here: http://www.amazon.com/Give-Devil-Her-Marc-Cabot-ebook/dp/B00YOAC9G0/
A review from Tera at Succubus.net:
"I have written that I loved this series dearly, that Lily is one of my most favorite characters, and how much I adored how Simon's life and Lily's come together and how things unfold for them both. This work places the entire Hell To Pay series into a full length novel and in doing so the work stands up quite well. At the end of Hell to Pay there was the hanging question of what was the cost of Simon's plan and what happened to Lily as a result. This work concludes this part of Lily and Simon's tale in a way that is simply perfect. [T]he conclusion does something more. It tells of something that was core to the series from the beginning and in the end turns out to be the meaning behind all that came to be.
It's passionate, loving, spiced with a bit of adventure, mystery and, yes, there are some questions left at the end. All of that fits perfectly and just made me love Lily and Simon even more."
From the Author:
When I wrote Hell to Pay, I originally thought that Simon and Lily's tale had been told. I didn't realize just how persistent Succubi could be! Lily and Simon went through two more adventures, and I thought we were done. Then I decided to put their stories in one book, and Lily informed me that this time, I had to tell you the real ending.
So now you can get the whole trilogy, with over twenty-five thousand words of new material, in just one book! It's an ending you never saw coming, for the greatest romantic supernatural con you ever saw pulled. Enjoy!
Give the Devil Her Due
Categories →
Collections
Erotic Mind Control
Happy Ever After
Hell To Pay (Lily the Succubus)
Lactation
Menage
Novels
Paranormal
Romance