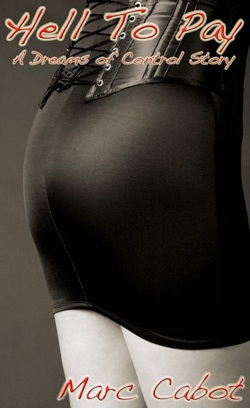 Click here to buy on: Smashwords / Amazon / Barnes and Noble / Kobo
When adventurous Simon Marshall is picked up in a Prague nightclub by the beautiful Irena, all he wants is to get lucky. He does… but his luck is that instead of Irena killing him and stealing his soul, she leaves him with the knowledge that he's a real magician and a handful of ancient spellbooks.
The books offer the promise of unspeakable power and unimaginable pleasure, most of it embodied in Lily the succubus. Her charms are irresistible but if he wants to sample them, he'll have to make a deal. She may be easy, but she isn't cheap. And the price is beyond imagining…
(Erotic Mind Control, Maledom, Menage / Threesomes, Paranormal)
Note: This is the first book in the Hell to Pay series. The second book is Hell to Pay: Halloween Dreams and the third book is Hell to Pay: Carnival of Lust. The basic rules of magic in the Dreams of Control universe are set forth in the book A Matter of Trust.

Hell to Pay
Categories →
Erotic Mind Control
Hell To Pay (Lily the Succubus)
Lactation
Menage
Novellas
Paranormal
Romance